Monthly classes: September 2019 Schedule:
New sessions begin at the start of each month. Dovercourt classes begin September 3. Jam Factory classes begin September 9. [NB There will be no classes on Labour Day, September 2.] Registration is open.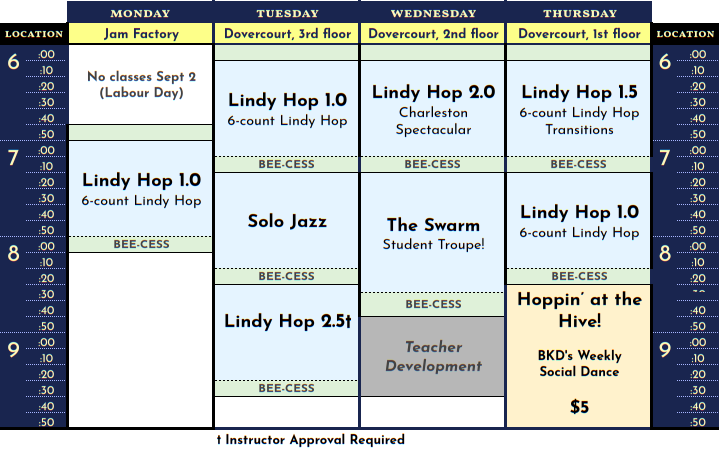 What's Bee-cess? Click here for details.
Using a Groupon? Sign up here!
---
Summer Workshops!
We're very proud of our core curriculum, but there is so much more to Swing and jazz-era artistry than we can possibly cram into regular classes. Your Bee Keepers and other special guests are thrilled to bring you a series of weekly special skills workshops filled with the intricate concepts, detailed technique and exciting new styles you crave!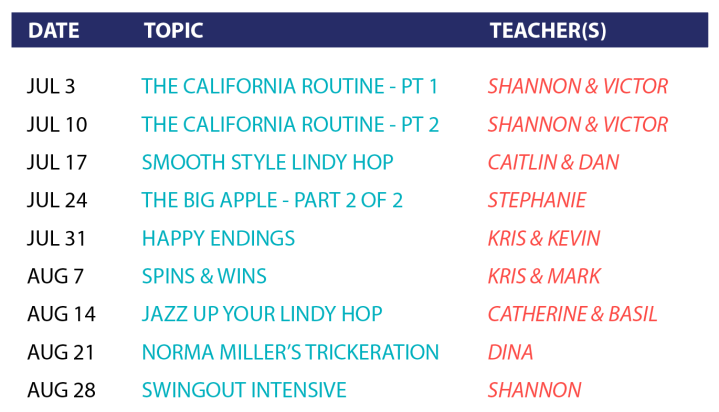 ---
Locations:
Bees' Knees Dance classes are currently offered in two convenient locations:
805 Dovercourt Road (near Ossington Subway Station).
2 Matilda Street (near Queen East & the DVP)
---
Front Desk Schedule:
The "Worker Bees" will be available on location at the following times:
Mondays 6:45 – 8:00pm (Jam Factory)
Tuesdays 6:00 – 8:15pm (Dovercourt House, 3rd floor)
Wednesdays 6:00 – 8:15pm (Dovercourt House, 2nd floor)
Thursdays 6:00 – 8:15pm (Dovercourt House, 1st floor)
These friendly administrative assistants can help you register for classes and answer any questions you may have. You can also contact us by email.