2018 October Schedule: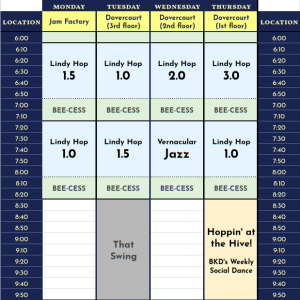 (click graphic to enlarge)
Curious about Bee-cess? Click here for details.
---
Locations:
Bees' Knees Dance classes are currently offered in two convenient locations:
805 Dovercourt Road (near Ossington Subway Station).
2 Matilda Street (near Queen East & the DVP)
---
Front Desk Schedule:
The "Worker Bees" will be available at the Dovercourt House:
Mondays 6:00 – 8:15pm (Jam Factory)
Tuesdays 6:00 – 8:15pm (3rd floor)
Wednesdays 6:00 – 8:15pm (2nd floor)
Thursdays 6:00 – 8:15pm (1st floor)
These friendly administrative assistants can help you register for classes and answer any questions you may have. You can also contact us by email or voicemail.