Monthly classes: December 2019 Schedule:
Our final month of classes begin December 2. Mini Choreos are short choreographed routines which we'll be performing at Peck the Halls, our holiday party, December 19th at Dovercourt House. Registration is open.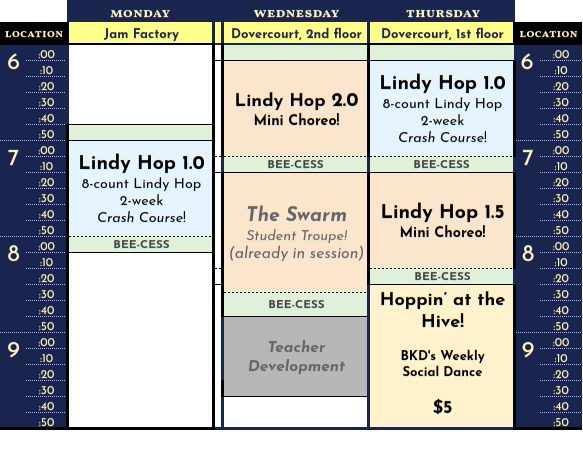 What's Bee-cess? Click here for details.
Using a Groupon? Sign up here!
---
Locations:
Bees' Knees Dance classes are currently offered in two convenient locations:
805 Dovercourt Road (near Ossington Subway Station).
2 Matilda Street (near Queen East & the DVP)
---
Front Desk Schedule:
The "Worker Bees" will be available on location at the following times:
Mondays 6:45 – 8:00pm (Jam Factory)
Wednesdays 6:00 – 8:15pm (Dovercourt House, 2nd floor)
Thursdays 6:00 – 8:15pm (Dovercourt House, 1st floor)
These friendly administrative assistants can help you register for classes and answer any questions you may have. You can also contact us by email.