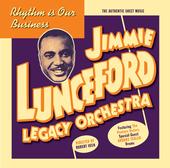 SONG OF THE WEEK
Bees' Knees Dance is pleased to bring you our latest feature: Song of the Week!
SONG: 'Taint What You Do
ARTIST: Jimmy Lunceford
DESCRIPTION: This is one of the most popular songs to use for the Shim Sham, and Jimmy Lunceford's original version is the best. Other songs that can be used are Stompin' At The Savoy and Tuxedo Junction, but this is really the favourite for Lindy Hoppers all over the world.
The song is used in this video of the Frankie95 global Shim Sham in 2009. Unfortunately, Toronto got shafted and they only used a split second of our footage, but you can still see just how important this song is to dancers all over the world.