Phil Bourassa
(co-owner)
Phil lives and breathes Lindy Hop. After having tried other forms of dance, he was invited to a Swing dance at the Palais Royale in Toronto where he saw Lindy Hop for the first time. He was immediately hooked. His passion for Lindy Hop, its culture and its history has sent him to cities all over Canada, the U.S., Europe and Australia, dancing and working with some of the world's top dancers. Phil loves to perform and usually never gives up the opportunity to dance in front of an audience. In Toronto, he's been a part of two local dance troupes, including Capital Dance Productions. He's also been featured twice on Much Music's Much on Demand, CP24, Nuit Blanche, The Luminato Festival, and many other festivals and charity events in the Toronto area. When he's not out social dancing, Phil enjoys training, writing choreography, DJing at Swing dances, rehearsing routines, watching dance videos, tap dancing and teaching. His main goal in teaching is to share his passion for the dance, promote awareness and improve the local scene.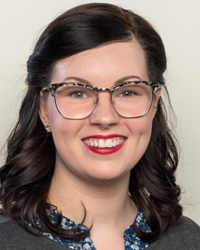 Ashley Bratty
Ashley has been in love with dancing ever since she can remember. But while growing up with ballet was a lot of fun… finding the Lindy Hop world in 2011 was like coming home. She was immediately sold on the supportive community, the joyous music, and, above all else, the positive energy and appreciation for silliness that Lindy Hop embodies. Ashley hopes to foster in new Bees the same love for positivity and friendly support that first drew her to Lindy Hop! She lives for moments where students see in themselves a hidden ability to dance like a pro that they hadn't realized was there before!
An anti-violence worker by profession, Ashley is also a committed advocate for fostering inclusivity and safety in Lindy Hop classes and events. She actively works to make, and keep, this community a loving and safe space for anyone and everyone who wants to be a part of it.
Catherine Carriere
Originally trained in ballet, tap and modern jazz dance, Catherine began dancing Lindy Hop in 2009 with UWO Swing Kids in London, Ontario. After spending some years balancing dancing with career and family, Catherine began immersing herself in earnest in early 2016, exploring Balboa, Solo Jazz, Collegiate Shag, and other dances alongside Lindy Hop. Having developed a voracious appetite for social dancing and out-of-town workshops, Catherine's family began to miss her, and so she introduced her children to swing dance as well. If you're lucky, you might catch a Carriere family dance performance at a local Toronto dance event!
As a teacher, Catherine's goal is to encourage every student to uncover their own inner dancer, whether that dancer is a casual social dancer, a performer, a competitor, or all three at once. She has a particular passion for gathering learning tools on her travels and sharing as many tips and tricks as she can with anyone who will listen! On the social dance floor, she seeks to create inventive shapes and inject off-beat rhythms, drawing from diverse dance styles to put her own spin on swing dancing.
Jessica David
Jessica rediscovered the lindy hop when she moved to Toronto back in 2010. As a grad student, she wanted something active & fun to get her out of the lab, and the rest is history. She immediately joined the executive board for UT-Swing, and ever since she's been dancing her way around Toronto as well as organizing events such as TUX, the Anti-Comp, and a celebration of women in jazz. She loves vintage jazz music, and you can find her behind the DJ booth playing her favorite deep cuts from Lionel Hampton's library. She has also been running Girlnacular Jazz since 2015, an all-women solo jazz troupe that has performed at World Lindy Hop Day, Otown Showdown, and Lindyworks. She hopes in her classes that you will find new ways to move your body & let the music inspire your movement.
Victor Ducedre
(co-owner)
Victor has been swing dancing since 2011. A dedicated introvert, he has resisted writing a bio for this website, so now Kris is writing it for him. Victor is a voracious music lover and collector, who is tops at music trivia and truly comes alive on a dance floor. Watch for Victor in the Killer Diller Bees performance troupe, or anywhere Balboa is danced.
Classes with Victor are playfully sarcastic, with an emphasis on the creative fun you can have with this dance. Victor also serves as our long-standing Depu-Bee, heading up the administrative side of studio ownership.
Basil Flanagan
Basil has been swing dancing since spring 2014 and can't believe he didn't start sooner. He quickly got hooked and came to Bees Knees Dance to take his new dance hobby to the next level. Basil soon found himself taking every class he could get his hands and feet on, expanding his swing umbrella to include Balboa, Tap, Jazz, and Cane Tricks.
Basil came to dancing through his love of listening and performing jazz, and strives to approach dancing as a continuation of his considerable musical training. His teaching approach focuses on "feel" and musicality while getting new dancers confident and out on the social floor as soon as possible.
Adam Jan
Adam started taking Lindy Hop classes in September of 2015 with Bees Knees Dance. Given that he had no previous dance experience under his belt (and two left feet), he was amazed at how quickly the Lindy Hop world sucked him in. He fell in love with the goofiness and the creativity that the dance has to offer and strives to bring that spirit when dancing. Since that faithful day in September, Adam has performed, competed and attended workshops with some the world's top Lindy Hop instructors for the sake of developing his dance.
On the social dance floor, Adam's a fan of unconventional moves, often throwing in solo jazz breaks and trying things that don't exactly fall into the realm of classic Lindy Hop. He encourages his fellow dancers and students to get in touch with their creative side and experiment when dancing.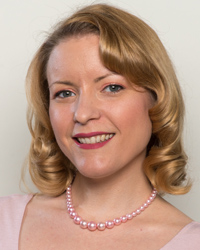 Kris Light
(co-owner)
Kris was introduced to Lindy Hop and Bees' Knees Dance while choreographing a musical featuring none other than James Everett in the Fall of 2011. A classically trained ballerina with decades of performance and competition experience in tap, modern jazz, lyrical and musical theatre, Kris found the leap to Lindy Hop challenging but endlessly rewarding.
A founding performer with professional troupe That Swing!, Kris specializes in 1920's Charleston, sultry Slow Dance and characteristic performance styles of the Golden Age of Hollywood (Fosse, Rogers/Astaire, Kelly/Charisse).
Classes with Kris are goofy and explorative, with a strong focus on pushing personal boundaries. She incorporates techniques and aesthetics from other classic dance forms to increase body awareness and encourage students to uncover their own personal swing styling!


Jasper Palfree
(co-owner)
Jasper began dancing when he moved to Toronto in 2009. His studies of theoretical physics catered to his lindy hop habit, and he became actively involved in the University of Toronto Swing Dance Club. He began teaching at Bees' Knees Dance in 2010.
Jasper is a patient and dedicated teacher, and leads classes that cater to diverse learning styles. He is known for using exercises, games, or even "tricks" to help students unlock their dance potential. Jasper draws inspiration for his classes from classic clips of vernacular jazz dancing, particularly of the Nicholas brothers or Al Minns and Leon James.
Shannon Refvik
Shannon is a vivacious dancer and performer who specializes in Lindy Hop and Authentic Jazz. Since having started dancing in 2006 she has become an integral part of the Toronto scene and is one of the co-founders of the University of Toronto Swing club.
She draws inspiration from lively dancers like Frida Segerdahl. Her teaching style really reflects the idea that "Anyone can dance", and because of this she especially enjoys teaching beginners. She loves seeing beginners achieve feats of footwork that they themselves never thought they could do.
Stephanie Taylor
Stephanie Taylor (née McKernan) dances, organizes, performs, judges, teaches and sometimes even competes. Technically she specializes in the field of African American Vernacular Jazz Dancing; her favourite part of all that is the Lindy hop and solo Jazz dancing. Her dancing trademark is a special mix of inspiring musicality, solid social and performance dancing skills, and unpredictable explosions of excitement. Her 'mad dancing skillz' earned her several top three placements at the Pacific Northwest Lindy Hop Championship and the Harvest Moon Ball Competition at the Killer Diller Ball. She has performed and taught at events across the Pacific Northwest and in Toronto.
She founded and continues to produce and direct the biggest and best weekend of dancing in Western Canada, Lindy Bout. Since moving to Toronto she has had the pleasure of teaching for and performing with many of the organizations that promote Lindy hop and Jazz in Toronto: Bees Knees Dance, Capital Dance Productions, Hogtown Swing, Toronto Lindy Hop, Toronto Swing Dance Society, Swing Toronto, Swing and Tap Academy and UT Swing. She has performed and taught at events such as Luminato, the Canadian National Exhibition and Ontario Place.
Dina Waluyo
Dina has had swing jazz playing in the back of her head since childhood thanks to her dad and brother's appreciation for the music. She started dancing after being captivated by swing dancers she saw at a local bar and hasn't stopped since. The silliness, freedom, and musicality in Lindy Hop deeply resonate with her and she is constantly trying to bring her musical background into her dancing. On the dance floor, she is an exuberant dancer and she meets every derpy moment with roaring laughter. While primarily a Lindy Hopper, she also does other vintage dances such as Vernacular Jazz, Balboa, and Blues. With her forever-a-student mentality she seeks to learn and grow even more through teaching.
Caitlin Wellman
Caitlin seriously got in to Lindy Hop in 1997 at the age of 15 in Ithaca, NY. With fellow students from her Alternative school she was a founding member of the multi-award winning performance troupe Minnie's Moochers who most recently performed together again at the Frankie95 Celebration in New York City. Before setting down as a regular instructor in Toronto she was in demand as a teacher across the US, Canada, Europe, Australia and Asia for many years. She has also been the Director and Choreographer for Toronto based performance troupes The Flappettes and Capital Dance Productions.
As an instructor, her focus is on solid lead/follow technique – based on momentum, connection, and rhythm – which helps her students enjoy the dance on a deeper level and become more connected to the music and their partner. Her teaching is clear, articulate, and full of fun with many creative ways of helping you improving your dancing.
Mark Winward
Mark started dancing lindy hop in the fall of 2016 and has hardly stopped since. He quickly came to love the energy, playfulness, connection, and depth that the dance had to offer. Mark always strives to learn, improve, compete, and perform as a dancer.
As a teacher, Mark emphasizes connection – both to the music and to one's partner. He especially enjoys introducing his love of the dance to new dancers, and to have them out and feeling good on the social floor.