Toronto's Swing Dance Specialists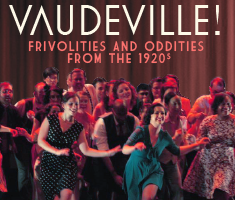 .
We're putting on a show chock full of music, magic and mayhem!
.
VAUDEVILLE! Frivolities & Oddities from the 1920s
Saturday, June 25, 2016 – 7:00pm
Al Green Theatre, 750 Spadina Avenue
.

Learn more and reserve tickets
Celebrating the original jazz-era dance styles of the 1920s to 1950s
Our team of enthusiastic, professional instructors can't wait to introduce you to Toronto's best-kept secret; our thriving and jiving swing dance scene!
Specializing in Lindy Hop, the original swing dance, the Bees' Knees Dance repertoire features other exciting swing styles including Charleston, Balboa, Cane Tricks, Authentic Jazz and Tap.
Absolutely no prior experience is necessary; it's our passion to teach adults their very first dance steps and regardless of your age, sense of rhythm or number of left feet, we believe that anyone can dance.
Our latest
posts
Tales from Lindy Bout X March 31 - April 3, 2016 (Vancouver, BC) Go Sweatbands! ...

Read more →

(Photo credit: Bruno Avard) Wow! Toronto absolutely swarmed this weekend's O-Town Showdown! We'r ...

Read more →

After nearly ten years of Lindy Hop, I've participated in my fair share of birthday jams, both as a "jam ...

Read more →